I started making these sandwiches, years ago, to take to our church's annual celebration on the 4th of July weekend and rarely make them any other time of the year. I always take extra, because I think the word is out about these scrumpdilocious sandwiches, and someone always happens to stop by our spot on the hill just as the sandwiches are being served. I've even been known to call the people, who I know will end up on my blanket, for their special order … no cheese or no onion or ham only. So, when one of my very best friends called me and said, "Kimmie, tell me everything you put on your 4th of July sandwiches. They are SO yummy and I want to make them for my sisters.", we both laughed. I'd never thought about naming them. Patty, you get credit for this one, my beautiful sister.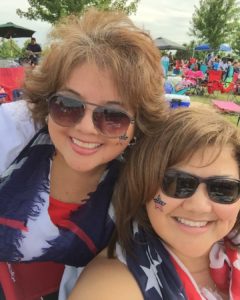 The key to these sandwiches is the quality of ingredients. Trust me! I buy Applegate Organic deli products from Whole Foods. FYI: They have $2 off all of their deli meats and cheeses on Sunday. You're welcome. And, the bread that I use for these sandwiches is KEY! This is probably the only time of year that I buy the La Brea Bakery Torta rolls from Costco because I would eat them ALL myself. SO GOOD! You will find them on the tables in front of the bakery. They will NOT be Kimmie Bee's 4th of July sandwiches without this bread! Okay, I suppose you could use ciabatta rolls or your favorite bread, but … yah … get the bread from Costco.
You will need:
torta rolls
turkey (I prefer oven roasted)
ham (I prefer black forest)
salami
sharp cheddar cheese
havarti cheese
tomato, sliced (I prefer beefsteak or heirloom)
baby greens or baby romaine lettuce
red onion, sliced
mayonaise
extra virgin olive oil
balsamic vinegar
oregano or Italian seasoning
freshly ground black pepper
To assemble the sandwiches, put your desired amount of mayo on each half of the bread. Sprinkle each half with oregano or Italian seasoning. Then, add lettuce, ham, cheddar and turkey on one half and havarti, salami, tomato and onion on the other half. Notice, I didn't specify amounts. If you like turkey more than ham, put more of that. Don't care much for onion? Omit it. I add one slice of turkey and ham and two to three slices of salami; one slice of each cheese and two slices of tomato. We happen to like all of the ingredients, but … you get the idea. Drizzle both halves with olive oil, balsamic and pepper.  Carefully place one half on top of the other and get ready to have a party …. fireworks … in your mouth.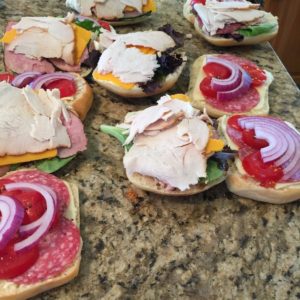 #yumola