I tried this recipe, last Christmas, after seeing Tia Mowry make it on her cooking show. I normally make lasagna, salad and garlic bread for Christmas dinner. But, I wanted to make something different and this totally fit the bill. I made the usual; scrumpdiliocious lasagna, too, just in case my family wasn't feeling the tenderloin. You'll find that recipe also posted under main dishes. However, the tenderloin was a HUGE hit! It is DELICIOUS and you will look like a rockstar! Such a beautiful presentation! I served it alongside my roasted brussels sprouts (mhmm, that recipe is posted under side dishes) and garlic mashed potatoes. That was one BIG meal with lots of leftovers.
For the beef tenderloin, you will need:
6 T fresh parsley, chopped
6 T fresh rosemary, roughly chopped
6 T fresh thyme leaves
6 garlic cloves
1 T kosher salt
olive oil
one 5-6 pound trimmed whole beef tenderloin; tail end tucked under and tied every 2 inches
1 1/2 t freshly ground black pepper
Preheat the oven to 425 degrees
Place the parsley, rosemary, thyme, garlic and salt in a food processor. Pulse until finely chopped. Add 1/4 cup of olive oil and pulse to make a thick paste.
Heat a large skillet over high heat. Lightly brush the tenderloin with olive oil and sprinkle with black pepper. Sear on all sides, about 2 minutes per side.
Rub the tenderloin with the herb mixture and place the pan into the oven. If it's easier for you to apply the rub, remove the tenderloin from the pan onto a board and apply the rub. Then, place it back into the pan.
Place the pan into the oven and roast until the tenderloin reaches an internal temperature of 135 degrees for medium or approximately 35-40 minutes.
Remove from the oven, cover with foil and let rest for 10 minutes. Remove the string, slice and serve with the horseradish cream sauce.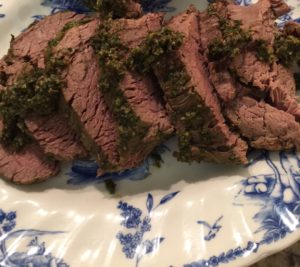 For the horseradish cream sauce, you will need:
1 cup sour cream
1/4 cup mayonnaise
2 T prepared horseradish
2 t Dijon mustard
1 t kosher salt
1/2 t freshly ground black pepper (or white pepper if you prefer)
1/4 cup fresh chives, chopped
In a medium bowl, combine all of the ingredients and mix well. Let sit in the refrigerator for at least 20 minutes before serving.