This corn chowder recipe is my spin on a 'Summer corn chowder' I had in a restaurant. It was really good, but I felt it was a little too thin and needed to be more flavorful. I love recreating recipes at home because I know exactly what is going in them; can control the quality of ingredients (I try to use organic as much as possible) and can tweak them to cater to my/our taste buds. I hope you will give this chowder a try. It's extra scrumpdiliocious with a grilled cheese sandwich!
3 potatoes, cubed
1 red bell pepper, chopped
1 green bell pepper, chopped
1 medium onion, chopped
1 stalk of celery; tops included, chopped
3 T unsalted butter
2 T olive oil
3 T flour
5 cups of chicken stock (I prefer making my own, but there are some great store bought stocks. You could substitute with vegetable stock as well)
4 cups of fresh corn, cut off the cob OR frozen corn
1 cup of heavy cream
1/4 t of poultry seasoning
pinch of cayenne pepper
salt & freshly ground pepper to taste
fresh basil, rolled and cut into strips (chiffonade) or if you really want to take it to THE NEXT level … homemade bacon crumbles to garnish (shown in the picture below with a grilled cheese sandwich)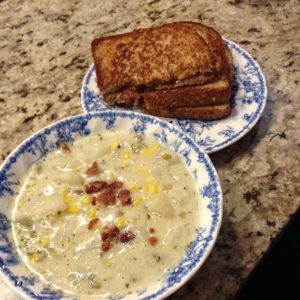 Heat the butter and olive oil in a heavy stock pot or dutch oven. Add the onion, celery, peppers, 1/2 teaspoon of salt and pepper and cook for 5 minutes over medium heat. Sprinkle the flour over this mixture and cook for 3 minutes while stirring. Add the stock and potatoes and bring to a boil. Reduce the heat to a simmer, cover and cook until the potatoes are tender. Add the corn, seasonings and cream. Continue to simmer, uncovered, for 5-10 minutes until the soup thickens. For a creamier consistency, remove one cup of the soup and puree with an immersion blender (or traditional blender) then return to the pot. Garnish with the basil or bacon crumbles.
#yumola