I was a not a member of the 'riced cauliflower fan club'. In fact, I'm not even a fan of cauliflower in any form. But, in my effort to eat healthier, I decided to give it a try. I was pleasantly surprised. Okay, that's an understatement. I was blown away! And, my non veggie loving son didn't even realize it wasn't rice. Winning!!!
You will need:
coconut oil (can use olive or vegetable oil)
2 large eggs, beaten
6 green onion, chopped (white & green)
3 cloves of garlic, minced
1 T of fresh ginger, finely chopped
1 package of frozen riced cauliflower
4 T of soy sauce (I use coconut aminos)
1/4 t red pepper flakes
1 large carrot chopped
1 cup of snap peas chopped
1 t rice vinegar
1 t sesame oil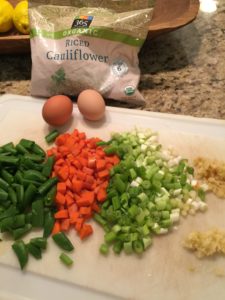 Heat two teaspoons of oil in a large nonstick skillet or wok over medium heat. Add the eggs and scramble until the eggs are cooked. Transfer the eggs to a small plate and set aside. Wipe the pan clean and turn the heat up to medium high. Add three tablespoons of oil to the pan and add the carrots, green onion, garlic, and ginger. Cook, stirring often, until softened. Add the grated cauliflower & peas. Cook for 1 minute. Add the soy sauce and red pepper flakes. Cook, stirring often, until the cauliflower "rice" is tender. Stir in the rice vinegar, sesame oil and eggs.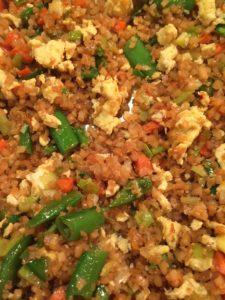 #yumola