One of my best sister/friends posted a salad with roasted brussels sprouts, yesterday, and it made me think of my Christmas dinner from last year. Thanks for being the inspiration for this post, Jess.😊
I usually make lasagna, salad and garlic bread for Christmas. However, I was watching Tia Mowry's cooking show, a few days before Christmas, and she was making a holiday dinner for some special friends which included roasted brussels sprouts with miso. I didn't think that would go over well with my crew, but I know that balsamic and honey pair well and would serve to bring out the sweetness in the roasted little sprouts. So, I gave it a try. Oh my goodness. YUMOLA! Dinner turned out so well that I will be repeating the exact same menu this year. Another sweet girlfriend (thanks Cynthia ☺️) recently gifted me with some scrumpdiliocious balsamic from Williams-Sonoma, so they will be extra tasty this year!
I served the sprouts alongside Tia's herb crusted beef tenderloin. AMAZING. I changed a few things to suit our taste, but it was truly delish! I will be posting that recipe under main dishes soon. I also made garlic mashed potatoes and just in case my crew said, "Hey, what's this!", I made my usual lasagna with homemade garlic bread (look for those recipes to be posted soon, too). But, honestly, the roasted brussels sprouts made the meal complete and were a huge hit. Not a fan of sprouts? They were not my faves either. My hubby loves them, so I was really making them for him. But, this recipe will change your ENTIRE mind. Trust me!
You will need:
1 1/2 – 2 pounds of brussels sprouts
3 T extra virgin olive oil
1 tsp of kosher salt
1 tsp of freshly ground black pepper
1 T balsamic vinegar
1 1/2 t honey
Preheat the oven to 400 degrees.
Cut off the stems of the brussels sprouts and any yellow or ragged leaves. If some sprouts are larger than the others, cut those in half. Place them in a bowl and toss with 2 tablespoons of the olive oil, salt and pepper. Pour them onto a baking sheet pan and roast for 35 to 40 minutes. Shake the pan, from time to time, so that they brown evenly. The sprouts are done when they are tender on the inside and crisp on the outside. Remove the sprouts from the oven and place in a serving dish. Drizzle with the remaining tablespoon of olive oil, balsamic vinegar and honey. Toss to coat and sprinkle with additional salt, if needed.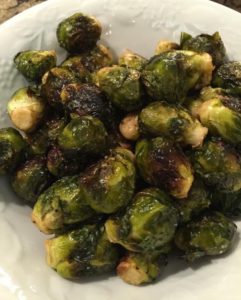 #yumola