I have a group of girlfriends and we affectionately refer to ourselves as 'The Crew'. We get together and go to concerts, plays; celebrate birthdays, graduations, etc. And, sometimes, we just get together for dinner at a restaurant or at each others' homes. A few years ago, my girlfriend Rochelle invited 'The Crew' over for dinner prior to us heading out to see a movie. She made this jambalaya and it honestly ranked up there with some of the best I've ever tasted. I have had A LOT of jambalaya; even in New Orleans. I was impressed! She shared the recipe with me and I've been making it ever since. When I asked her for permission to share this recipe with all of you, she graciously said, "Absolutely! Girl, it's not my recipe! I got it from The Food Network." But, it IS her recipe because she changed it up and made it her own. She doesn't care for okra and she didn't have seafood in her recipe, so those additions are mine along with a few other changes. I call it, 'gumbo meets jambalaya' because it's a lot like gumbo. Whatever you call it, you will definitely be including the word YUMOLA in that description. Thanks, Rochelle. 💗
Olive oil
4 boneless, skinless chicken breasts cut in half lengthwise; then cut into strips. Then, cut the strips in thirds.
20 jumbo shrimp, peeled and de-veined
1 cup of flour for dredging the chicken
5 andouille sausages, sliced (I like using chicken andouille)
7 cloves of garlic, minced
2 green peppers, chopped
2 red peppers, chopped
4 stalks of celery, chopped
1 large onion, chopped
1 bag of frozen okra
1 1/2 T dried oregano
1 t thyme
4 T dried parsley
2 T paprika
2 T chili powder
1 T cayenne (can use less for less heat)
kosher salt to taste
2 – 28 oz can of crushed tomatoes
4 T Worcestershire sauce
2 cups of chicken stock
Place the flour in a bowl and add 1 teaspoon of salt. Dredge the chicken in the flour. Heat a deep pan (a dutch oven is perfect for this) on medium high heat. Coat with olive oil once the pan is hot. Add the chicken and brown on one side. Turn and add the sausage. Cook for 3-5 minutes. Lower the heat and add the garlic, peppers, celery, okra and onion and cook for 5 minutes, stirring constantly. Add all of the seasonings, tomatoes, Worcestershire sauce and chicken stock. Simmer for at least one hour, stirring occasionally. During the cooking time, taste to see if additional salt is needed. Add the shrimp and simmer for an additional 2 minutes or until the shrimp turn pink. Serve over rice. And, invite all of your friends. This makes A LOT of jambalaya! Whenever I make this, I serve it with fried catfish and cornbread. It is a HUGE hit at Kimmie Bee's.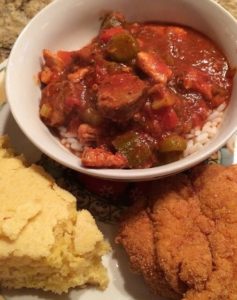 #yumola