The Fall basketball season has begun and, for my household,  that means we are constantly on the go which makes dinner planning and making a challenging task. However, I'm determined to keep my mommy mobile out of the fast food drive-thru lines! So, during this busy season, quick and easy recipes are my friend. My son LOVES pasta. In an effort to lighten up one of his favorites, yet still satisfy his … all of our … tastebuds, I came up with this version of Alfredo sauce. It is packed full of flavor and pretty scrumpdiliocious!
You will need:
2 whole boneless skinless chicken breasts, cut the breast in half lengthwise and then julienne or cube
kosher salt (about a teaspoon)
freshly ground black pepper (about a teaspoon)
1/4 teaspoon of dried thyme
1/4 teaspoon of dried rosemary
1/4 teaspoon of nutmeg
1/2 teaspoon of crushed red pepper flakes (can totally omit this)
4 cloves of garlic, minced
2 T olive oil
2 T butter (I use unsalted)
3 T flour (could use cornstarch with almost the same results)
1 cup of chicken stock or broth
1 cup of 1% milk (could use skim, but won't be as creamy)
1 cup of plain; non fat greek yogurt at room temperature
1 cup of freshly grated parmesan cheese
1 lb of your favorite pasta, cooked according to the package and drained (I used bow tie because it's my son's favorite)
Heat a large sauté pan on medium high heat. Season the chicken with the salt, pepper, thyme and rosemary. Add one tablespoon of the olive oil to the pan and add the chicken. Cook for three minutes, turning occasionally. Remove the chicken to a plate or bowl.
In the same pan, with the heat turned down to medium, add the remaining olive oil and butter. Add the garlic and cook for 30 seconds while stirring. Slowly whisk in the flour or cornstarch. Cook for one minute while whisking constantly. Slowly add the milk and broth, while whisking, until the liquid is combined with the flour and smooth. Turn up the heat to medium high and simmer the sauce for about 3 to 5 minutes or until it starts to thicken. Remove from the heat and slowly whisk in the yogurt. Once the yogurt is combined with the sauce, return the pan back to medium heat and stir in the parmesan cheese. Simmer, while whisking, for an additional 2 minutes. Season with additional salt and pepper, if needed, and the nutmeg. Add the cooked chicken back into the pan as well as the pasta; stir to combine and continue to simmer for 3 minutes.
Serve alongside your favorite vegetable and ENJOY!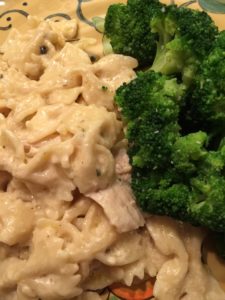 * Cook's note: The options are endless with this recipe. As is usually the case, I used what I had in my refrigerator and pantry. You can substitute the chicken for portobello mushrooms or add a package of sliced portobellos to the pan when cooking the chicken. You could also add broccoli (spinach, peas, etc.) to the pan, at the very end, and have a 'one pot dish'.
#yumola