I love anything with CURRY! Love, love, LOVE! These burgers are easy to put together and will take your tastebuds on a flavorful journey. So good! I hope you will give them a try.
1 1/2 lbs of ground turkey
2 T olive oil
3 T of tomato paste
1 small onion, grated (use a handheld grater to grate or chop very fine)
1 T grated fresh ginger (or 1/4 teaspoon of ground ginger)
2 T chopped cilantro (optional)
3 cloves of garlic minced
2-3 t of curry powder
1/2 t of cayenne pepper
3 T of Worcestershire sauce
1 t of kosher salt
1 t of freshly ground black pepper
Mix all of the ingredients, except for the ground turkey, together in a large bowl. Add the ground turkey and combine. Form your burgers (makes approximately six, 1/2″ thick burgers) and refrigerate for 30 minutes to an hour. Cook on a heated grill or grill pan (medium high) for 6 minutes per side. You could also pan fry them in a large skillet over medium high heat.
Serve on a bun with red onion, cilantro and tomato. Or, my favorite way to serve these burgers, in a toasted pita with Israeli salad and tahini sauce.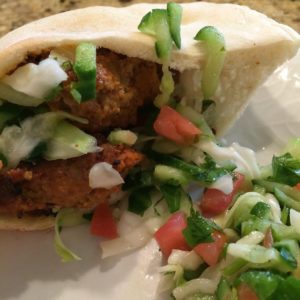 #yumola