In honor of Thanksgiving, I thought it only fitting to share my favorite dressing (also known as stuffing) recipe. This recipe is very close to the one my maternal grandmother used to make. Although I do love my Mom's recipe, which is the one I grew up eating, this one is my all time favorite. It's simple and delicious.
I ALWAYS use homemade cornbread; never store bought croutons or breadcrumbs. You can also add in fresh herbs, sausage, chestnuts, seafood or … the options are endless.
You will need:
1 pan of cornbread (see the recipe under sides)
3-4 pieces of your favorite bread, toasted & crumbled (challah or country white are my go tos)
4 ribs of celery, chopped (use the leafy green tops as well)
1 large onion, chopped
1 green bell pepper,, chopped
1 stick of butter (yepper, 1 whole stick)
3-4 cups of chicken stock (or use the stock from boiling the turkey neck/giblets)
2 t of ground sage
1 T poultry seasoning
1 t of kosher salt
1 t of freshly ground black pepper
2 eggs, beaten
Preheat oven to 350 degrees
Saute the vegetables in the butter until translucent. Crumble the cornbread in a large bowl and add the toasted; crumbled bread. Pour the cooked veggies over the bread mixture. Add the spices and chicken stock a little at a time. The dressing should be a little on the 'wet' side before going into the oven. You may not need all of the stock. Taste and adjust seasoning as needed. Add the eggs and put into a baking dish. Cook on 350 degrees for 20-30 minutes.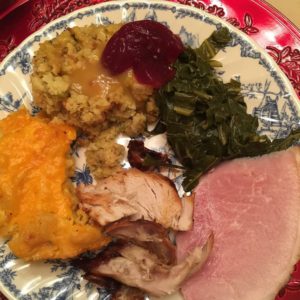 #yumola