These meatballs are rustic and delicious! They can be simmered in this simple tomato sauce and served over your favorite pasta. Or, they can be served on a fresh; crusty Italian sandwich roll and you've got yourself one yumola meatball sandwich. You can follow the recipe as written or use all ground beef or even ground turkey. And, they are even better, the next day!
For the meatballs, you will need:
1 1/2 lbs of ground beef
1/2 1b of ground pork
2 cups of plain bread crumbs
1 cup of romano cheese
4 cloves of garlic; minced
2 eggs; beaten
1/2 cup Italian flat leaf parsley; chopped
1/4 cup of olive oil
2 t  of kosher salt
2 t  of freshly ground black pepper
approximately 1 cup of water
Olive oil for frying the meatballs (for best results, but could be baked in the oven on 375 degrees for 10 minutes; then added to the sauce to finish cooking)
Combine all of the ingredients and add the water a little at a time. The mixture should be moist, but still be able to hold the shape of a meatball. You may not need all of the water. Roll into your desired size meatballs and place on a platter or baking sheet pan. Cover with wax paper and refrigerate while you are prepping the sauce. Once the sauce has simmered for 2 hours, remove the meatballs from the refrigerator and brown in olive oil over medium heat for approximately 5 minutes. Make sure to brown on all sides. The meatballs will not be cooked all the way through. Add them to the sauce (that has been simmering for 2 hours) and simmer for an additional 30 minutes to 1 hour.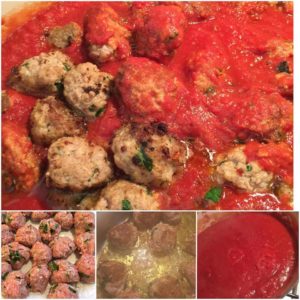 For the sauce, you will need:
4 large cans (28 oz) of Italian tomatoes or crushed tomatoes
1 small can (6 oz) of tomato paste
2 onions, chopped
6 cloves of garlic, minced
2 T of olive oil
2-3 t crushed red pepper flakes
1 t kosher salt
1 t freshly ground black pepper
If you are using whole tomatoes, use a mill to break up the tomatoes into a bowl. You could also use a potato masher or your fingers. There is no right or wrong way to do it. You just want to break up the tomatoes so that they will cook down.
Heat a large dutch oven or stock pot on medium high heat. Add the olive oil and chopped onion. Saute until translucent. Add the crushed red pepper flakes, salt, pepper and garlic. Cook an additional minute, stirring constantly. Add the tomato paste and cook for one minute while stirring. Add the tomatoes and stir to combine. Lower the heat to low and simmer for two to three hours, stirring occasionally. Add additional salt and pepper if needed.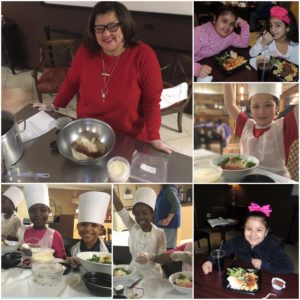 I had such a ball demonstrating this recipe to a group of budding chefs. Get your kids in the kitchen with you for this one. They will have fun and feel so proud when the meal is served. Be sure to invite over some friends. You will have enough to feed an army!
#yumola