I took out boneless skinless chicken breasts for dinner tonight, but needed to stop at the store to get a few things to complete the meal I had planned on making. However, after going to the UPS store and taking my son to basketball shooting practice in the FRIGID temps, all I wanted to do was get HOME! I knew I'd have to brave the weather, later, to take him back out to basketball practice. So, stopping at the store just wasn't happening. Besides, I figured I could come up with something for dinner using whatever I already had at home. And, boy, did I ever! I looked in my fridge and pantry and decided SOUP it is! You can modify this recipe to suit your tastes … sub coconut milk for regular milk; use vegetable broth instead of chicken broth and even omit the chicken altogether. But, if you follow it to the letter, I GUARANTEE you, you will not be disappointed. It is so hearty and delicious! Yumola, even!
You will need:
2 – 3 boneless, skinless chicken breasts
1 T olive oil or your oil of choice
kosher salt
freshly ground black pepper
1/2 stick of butter
4 carrots, scrubbed & diced (peel if you like)
3 stalks of celery, diced
1 medium onion, diced
1 1/2 t dried thyme
1/2 c of flour
6 cups of chicken broth
2 cups of milk
4 – 6 potatoes, peeled and cubed
2 cups of sharp cheddar cheese, shredded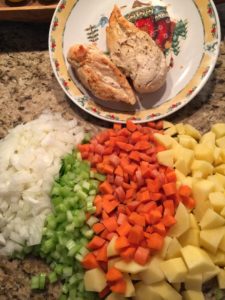 Season the chicken on both sides with salt and pepper. Heat a large dutch oven or stock pot on medium high heat and add the oil. Add the chicken and cook on one side for 3-5 minutes. Turn the chicken, turn the heat to medium low, cover and cook for 5-10 minutes or until done and no longer pink. Remove the chicken to a cutting board and set aside.
In the same pot, add the butter, carrots, celery and onion. Cook, on medium heat, for 3-5 minutes until tender. Stir in the thyme and cook for 1 minute. Whisk in the flour and cook for 1 minute. Gradually add the chicken broth and milk and whisk constantly for 3 minutes. Add the potatoes and bring the pot to a boil. Reduce the heat to low and simmer until the potatoes are tender (around 15 minutes).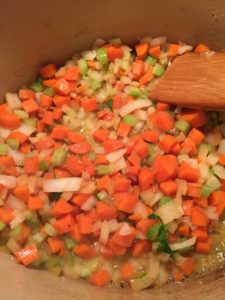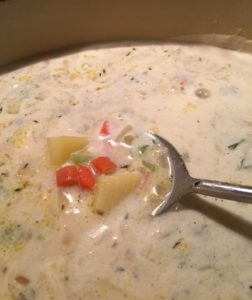 While the soup is simmering, dice the chicken. Once the potatoes are tender, remove about 2 cups of the soup and place it into a blender or a bowl and use an immersion blender to puree. You can skip this step, but it gives the soup body and a creamier consistency.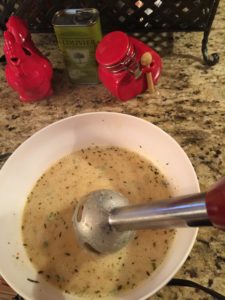 Add the puree back into the pot and stir in the diced chicken and cheddar cheese. Season with salt and pepper to taste. You can omit the cheese, if you'd like, and it will still be delicious, but the cheese makes it OUT OF THIS world good.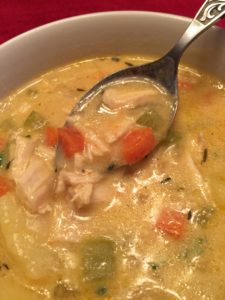 #yumola