This is a crowd pleaser! Whenever I host a party, my friends ask if I will be making my bruschetta.  Okay, who am I fooling? They INSIST that I make my bruschetta!
For this recipe, you will need:
6 roma tomatoes, chopped
1/2 cup sun dried tomatoes in olive oil, chopped
3 cloves of garlic, minced
4 T olive oil
2 T balsamic vinegar
1/4 cup fresh basil
salt & pepper to taste
2 cups shredded fresh mozzarella
1 french baguette, sliced about 3/4″ thick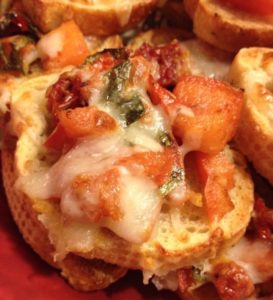 In a large bowl, combine tomatoes, sun dried tomatoes, garlic, olive oil, vinegar, basil, salt and pepper. Allow to sit at least 10 minutes so that the flavors can marry. Arrange bread on a cookie sheet and broil for 1-2 minutes. Remove from the oven and divide the tomato mixture evenly amongst the bread slices. Top with the cheese and broil until the cheese is melted. Remove and serve hot or at room temperature.
#yumola