We went to visit my Mom's parents every Summer, the 3rd Sunday in August to be exact. Oh, how I looked forward to this yearly trip to Mississippi. My Mom came from a big family and all of my aunts and uncles came with their families too. Cousin time in full effect! We went to church revival, spent countless hours outside playing and eating some of the best food I've ever had in my life! I loved spending time with everyone, but really loved stealing moments, alone, with my grandfather. That was hard to do with so many people in the house. So, I would wake up very early so I could sit and have breakfast with him while everyone else was still sleeping. I have a painting in my home that reminds me of my 'alone time' with my grandpa. But, some of my fondest memories of those Summers was the time I spent with my grandmother in her garden picking vegetables for dinner or sitting at her feet on the porch as we shelled peas or right at her side as she made homemade biscuits and homemade peach preserves. This buttermilk biscuit recipe, after years of trying, is as close as I can get to my beloved grandmother's biscuits.
2 cups of all purpose flour
2 T (heaping) of baking powder
1 t salt
1 T sugar
1 stick of very cold butter
1 cup of buttermilk
Preheat oven to 400 degrees.
In a bowl, whisk all of the dry ingredients together. Grate the ice cold butter into the flower mixture using a handheld grater. Using two knives, cut the butter into the flour. I prefer this method over using a pastry cutter. Pour in the buttermilk and mix just until the dough is formed. Do not overmix. Turn the dough out onto a floured surface and turn over (in a kneading fashion, but be gentle) three times. Pat dough into a rectangle about 1 1/2 to 2″ thick.  Using a medium sized cutter or glass, cut the biscuits. Try to cut them as close as you can so that you don't have any scraps left. The less you handle the dough, the lighter your biscuits will be. Brush off the excess flour and place biscuits on a cookie sheet. Bake for 13 minutes or until they just start to brown.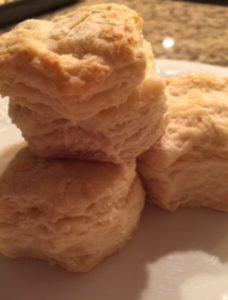 #yumola