So, remember when I posted the recipe for roasted Brussels sprouts the other day? And, I promised to post the lasagna recipe? The one that I make every Christmas Day for dinner? The one that I will be making this year along with the herb crusted beef tenderloin (look for that recipe this week) and roasted sprouts? Well, HERE IT IS! I have several recipes for lasagna: my own veggie lasagna, one using a béchamel sauce and my Mom's recipe … But, this recipe is honestly MY FAVE! Partly because it's easy to put together with minimal chopping and prepping. But, you cannot skimp on the quality of ingredients or make all sorts of changes like subbing dried herbs for fresh. FOR REAL. Or, don't go saying you got the recipe from me. HA! I saw Ina Garten making this lasagna, years ago, on Barefoot Contessa. And, okay, I admit I altered it the first time and it was good. But when I followed it to the letter, it was AMAZING! YUMOLA, even.
You will need:
2 T olive oil
1 large onion, chopped
2 large cloves of garlic, minced
1 1/2 pounds of sweet Italian turkey sausage, casings removed (you can use 1/2 sausage and 1/2 ground turkey OR use sweet Italian pork sausage or a combo of pork sausage and ground beef)
1 28 oz can of crushed tomatoes in tomato puree
1 6oz can of tomato paste
1/4 cup of fresh flat leaf parsley, chopped
1/2 cup fresh basil leaves, chopped
2 t kosher salt
1 t freshly ground black pepper
1/2 lb of lasagna noodles (I like to use the no bake sheets)
15 oz of ricotta cheese
4 oz of creamy goat cheese, crumbled (YES, goat cheese and NO, don't skip this)
1 cup of FRESHLY grated parmesan, plus 1/4 cup for sprinkling
1 large egg, lightly beaten
1 lb fresh mozzarella, thinly sliced
Preheat the oven to 400 degrees
Heat the olive oil in a large skillet or dutch oven. Add the onion and cook for 5 minutes over medium low heat, until translucent. Add the garlic and cook for 1 minute. Add the sausage and break up with a fork. Cook for 8-10 minutes or until no longer pink. Add the tomato paste and stir; cooking for 1 minute. Add the tomatoes, 2 tablespoons of the parsley, the basil, 1 1/2 teaspoons of the salt and 1/2 teaspoon of pepper. Simmer, uncovered, over medium low heat for 15-20 minutes, until thickened.
Meanwhile, fill a large bowl with HOT tap water. Add the noodles (unless you're using no bake) and allow them to sit in the water for 20 minutes. Drain.
In a medium bowl, combine the ricotta, goat cheese, 1 cup of parmesan, the egg, the remaining 2 tablespoons of parsley, the remaining salt and pepper AND … okay, I add 1/4 teaspoon of nutmeg and it's not in Ina's recipe, so I didn't include it in the list of ingredients above. You can omit it, but if you want to 'Kimmie-fy' it, add it in. Set aside.
Ladle 1/3 of the sauce into a 9 x 12″ rectangular baking dish, spreading the sauce over the bottom of the dish. Then, add the layers as follows: 1/2 of the pasta, half of the mozzarella, half of the ricotta and 1/3 of the sauce. Add the rest of the pasta, mozzarella, ricotta and end with the remaining sauce. Sprinkle with the 1/4 cup of remaining parmesan and bake for 30 minutes until the sauce is bubbling.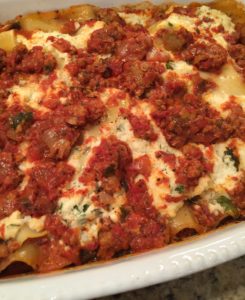 #yumola