I saw this salad on '30 minute meals' (Rachael Ray) and wanted to try it. It was really good, but I wanted more flavor and a different pasta. So, like many of the recipes I make, I put my spin on it. However, the inspiration and original recipe props go to Rachael. It is GREAT for Summer time dining; especially with grilled chicken, but it is delicious any time of year! In fact, it is a staple on my buffet table at my annual ornament exchange party.  It looks SO festive in a red bowl and is a crowd pleaser. Whatever you do, DO NOT skip the feta, olives or artichoke hearts.  If you're not a fan of these, keep scrolling.  They are the ROCK stars in this recipe.  TRULY!
You will need …
1/4 c extra virgin olive oil
3 T red wine vinegar (use a good quality one … trust me)
the juice of 1 lemon
6oz bag of baby spinach, chopped
1 – 2 cans of artichoke hearts packed in water, drained and chopped in half  (I use 2 because I love them!)
1/2 pound of feta cheese, crumbled
1/2 cup of pitted Kalamata olives, roughly chopped
1/2 of a medium red onion, chopped
1/2 cup of fresh Italian flat leaf parsley, chopped
1 lb of bow tie pasta, cooked al dente, well drained and cooled
kosher salt and freshly ground black pepper to taste
Combine the first three ingredients in the bottom of a large bowl and whisk. Add the remaining ingredients and toss to coat with the dressing. Season with salt and pepper.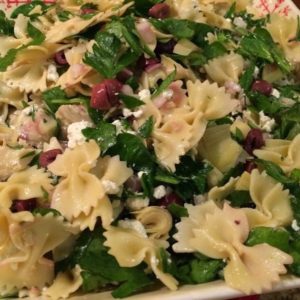 #yumola