So, today was one of those days that I DID NOT feel like cooking.  Yah, I have those days too. But, dinner still must get on the table. And, I didn't feel like take-out. So, what did I do? I asked my son what he wanted for dinner and he responded with, "PASTA … bow tie pasta." I took a look in my fridge and pantry. I had already taken out some boneless; skinless chicken breasts (they had been brining for 2 hours), so I was ahead of the game.  I grabbed the pasta out of the pantry along with some other staples; checked the fridge to see what veggies I had readily available and put together this chicken and bowtie pasta with sautéed yellow and zucchini squash (you will find that recipe under 'Side Dishes', just in case you'd like to know my method). The end result? A YUMOLA; kid friendly, easy and quick meal. SUCCESS!
You will need:
2-3 boneless, skinless chicken breasts cut in 1/2 lengthwise & cubed (brine the chicken … see method under 'Tips')
3 tablespoons of olive oil (or your oil of choice)
1 onion, chopped
1 t kosher salt
1 t freshly ground black pepper
1 lb box of bow tie pasta
2 cans of cream of mushroom soup with roasted garlic (mmhmm, i take shortcuts too ☺️)
3 cans of water (use the soup cans)
Heat a skillet on medium high. Add the oil and let heat for 30 seconds before adding the chicken. Let the chicken cook, without touching, for 4 minutes. This will allow it to start browning. Add the onion and stir. Continue cooking for 3-5 minutes until the onion starts to turn translucent.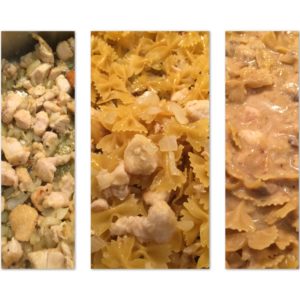 Add the pasta and stir. Add the soup and water; stirring to remove the browned bits from the bottom of the pan. Cover and simmer until the pasta is tender. Add additional salt and pepper if needed.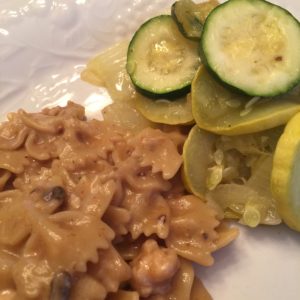 #yumola