One of my favorite sandwiches is the BLT. I think I like it so much because my Dad loved a good BLT and I have yet to taste one that rivals his. Simple? Yes. But, even the simplest things can be delicious. It's all about the quality of ingredients you use.
While on a business trip, close to my parents' home, I opted to stay with them instead of a hotel. One of the best decisions EVER. It provided me with an opportunity to spend some quality; uninterrupted and ALL TO MYSELF morning time (Sorry, not sorry to my siblings ☺️) with my Dad. During that trip, he would get up every morning and make me breakfast. On some of those mornings … okay, maybe almost EVERY morning, he made me a BLT. He was a great cook and he loved bacon and tomatoes. So, it was only fitting that he made THE BEST EVER BLT's. They always included non cured; thick slab bacon (he was ahead of his time on the organic, no nitrate, etc. thingy) and ALWAYS garden tomatoes (usually heirloom or beefsteak and often straight out of his own garden). So, this sandwich is in honor of my Daddy. Want to make it extra scrumpdiliocious? Add ripe avocado slices. Or, even better? Fried green tomato slices. (Stay tuned for the fried green tomato recipe later.)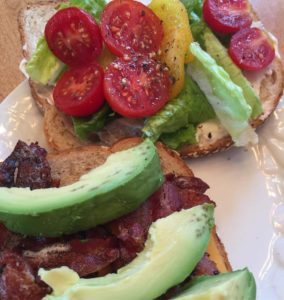 To make this yumola sandwich, you will need:
4-6 slices of thick cut; uncured bacon or uncured turkey bacon cooked until crispy
country white, ciabatta or your favorite wheat bread (bake your own or get from a bakery that uses quality ingredients. Whole Foods has a great selection of breads)
beefsteak, campari or heirloom tomato sliced & seasoned with kosher salt and freshly ground black pepper
butter lettuce, green leaf or romaine lettuce (but PLEASE no iceberg 😩)
1 Tablespoon of mayonnaise (your favorite brand or my favorite … homemade ☺️)
1/4 of a ripe avocado; sliced
Toast your bread and then assemble the sandwich. Start by putting the mayo on each slice of bread. Next, layer the lettuce & tomato on one slice. On the other slice, layer the bacon and avocado. Carefully place one half on top of the other and get ready to have a party in your mouth!
#yumola