Fried Okra …. where do I begin? Delicious nuggets of lightly battered scrumpdilociousness! Truly! If you are like me and not a fan of the slimy version of okra that is typically found floating in southern staples like baby lima beans or crowder peas, have no fear. This AIN'T that! Some people prefer to dip the okra in a heavier batter and deep fry them in a lot of oil. That is typically the version you will find in most restaurants. Those are good, but I prefer the version my Dad always made … this version … a light coating and pan frying. They are delicious served as an appetizer with a spicy remoulade or alongside some fried green tomatoes (recipe coming soon) and buttermilk biscuits. Give them a try! You will NOT be disappointed.
You will need:
2 pounds of fresh okra, sliced about 1/2 inch thick OR frozen, cut okra
1 cup of all purpose flour
1/2 cup of corn meal
1 tablespoon of my spice blend (recipe below) or your favorite blend of spices
1/2 cup of buttermilk
1/2 cup of oil or enough oil to fill your pan 1/2 way up the sides
Heat the oil in a large cast iron skillet or dutch oven over medium high heat. If you have a thermometer, heat to 350 degrees.
In a bowl, combine the flour, cornmeal and seasoning. Place the buttermilk in a separate bowl and dip the okra into the buttermilk then dredge in the flour mixture. Coat well. Add the okra, in batches, to the hot oil and cook until golden brown. Remove and drain on paper towels.
Spice Blend
2 T paprika
2 T salt
2 T garlic powder
1 T freshly ground black pepper
1 T onion powder
1 T cayenne
Mix all of the spices together and store in an air tight container.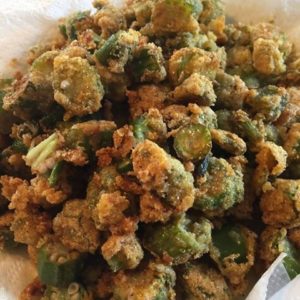 #yumola