My husband LOVES banana pudding and asked me to make it this past holiday weekend. We both grew up eating this simple and delicious treat. So, I was happy to oblige! SO good! I hope you will give it a try.
You will need:
For the pudding:
1/3 cup of all purpose flour
2/3 cup of sugar
1/4 teaspoon of salt
3 whole eggs and 1 egg yolk, beaten
1 cup of whole milk
1 cup of heavy whipping cream
1/2 teaspoon of vanilla extract
2 tablespoons of softened butter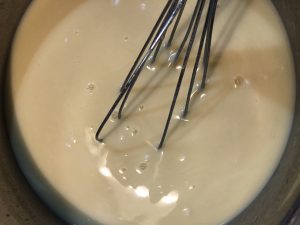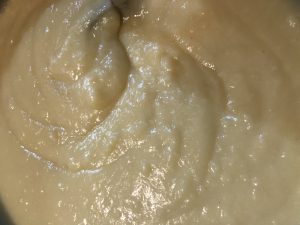 For the whipped cream:
1 cup of heavy whipping cream
2 tablespoons of sugar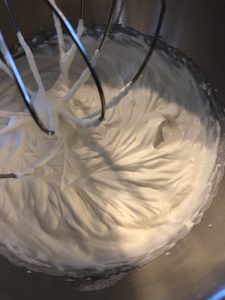 Additional Ingredients:
2-3 bananas, sliced
1 package of vanilla wafers
For the pudding, put the flour, sugar and salt into a saucepan. Stir to combine. Add the beaten eggs and milk. Stir well and cook over medium low heat, whisking CONSTANTLY, for approximately 10 to 15 minutes. I know. I  know. That will seem like an eternity, but WHISK you MUST! Once the mixture has thickened (it coats the back of a spoon and does not drip off), turn off the heat and stir in the vanilla and butter until smooth. Place the pudding into a bowl, cover with plastic wrap and refrigerate while you prepare the whipped cream.
For the whipped cream, chill a metal bowl and whisk in the freezer for 10 minutes. Place the sugar into the mixing bowl and add the whipping cream. Whisk (starting on low and increasing the speed to medium high) until the cream has stiff peaks.
To assemble the dish, start with a layer of wafers then add a layer of bananas followed by a layer of pudding and ending with a layer of whipped cream. Repeat until you reach the top of your dish making sure to end with a layer of whipped cream. Finish with crushed vanilla wafers on top. For a dramatic presentation, double the recipe and layer in a trifle dish or another deep serving dish. Chill for at least one hour before serving.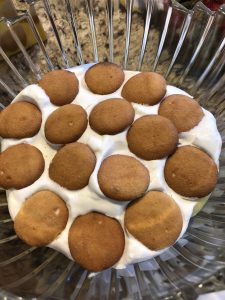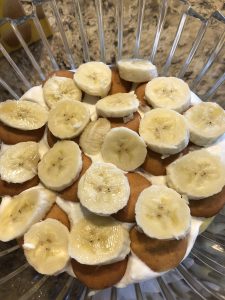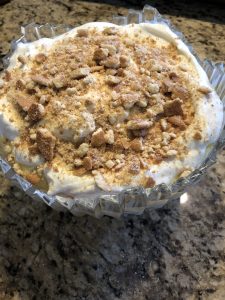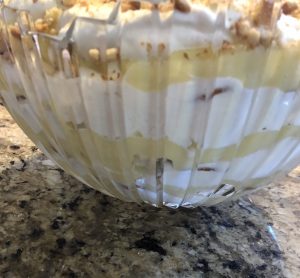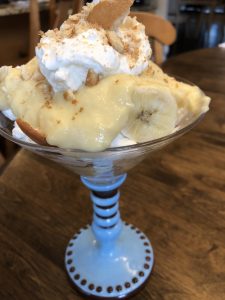 Enjoy!
#yumola
*NOTE* If you must have an extra silky and smooth pudding, you can use 6 egg yolks instead of 3 whole eggs and 1 yolk, but I  promise it is not necessary.