Anyone who knows me knows that I'm all about making everything from scratch. But, even I take shortcuts from time to time. This has got to be one of the easiest recipes, EVER, and so tasty. Seriously! It will make about 24 sliders or 12 regular sized sandwiches.
You will need the following:
4-6 boneless, skinless chicken breasts
1 12 oz bottle of your favorite barbecue sauce (I use #sweetbabyrays)
kosher salt and freshly ground black pepper to taste
1 T of apple cider vinegar
1 T of Worcestershire sauce
1/4 cup of brown sugar
24 slider buns (I prefer the brioche sliders at #WholeFoodsMarket
Season the chicken with salt and pepper on both sides and place in the crock pot. Add all of the other ingredients and cook on low for 4-6 hours. Shred and serve on the slider buns. Top with coleslaw.
If you want to get fancy, before putting the slaw on the sliders, preheat the oven to 400 degrees. Put the bottom buns on a baking sheet. Top with desired amount of pulled chicken and place the bun tops on. Brush with melted butter and sprinkle, lightly, with kosher salt and bake for 3 to 5 minutes. (Shown on picture below)
AND, for the Coleslaw:
1/2 head of green cabbage,  shredded
1/2 head of purple cabbage, shredded
2 large carrots, shredded
1/2 cup of mayo
2 T sugar
2 T lemon juice
1/2 T of quality balsamic vinegar
1/2 T of white vinegar
kosher salt and freshly ground black pepper to taste
Mix all of the ingredients in a large bowl and stir. For best results, chill at least 1 hour before serving.
OR, if you'd rather forgo making the coleslaw & dressing from scratch …
1 lb bag of coleslaw mix
your favorite bottle of coleslaw dressing. My fave is #marzetti original slaw dressing found in the cooler next to the lettuce.
1 T of quality balsamic
kosher salt and freshly ground black pepper to taste
Mix, chill and serve.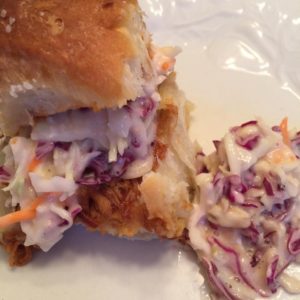 #yumola