Are you looking for a healthy meal that is not bland, boring and void of flavor? Or, just looking for something new to add to your menu? Have you given up pasta? Are you a vegetarian? This recipe is for YOU! Even meat and pasta eaters will gobble this one up. I won't tell you that spaghetti squash tastes just like pasta. It does not. But, I promise, you will not wish you were eating pasta. So healthy and SO GOOD! Feel free to add, or substitute with, your favorite veggies. Most of my recipes are created with what happens to be in my pantry and refrigerator. This combination is DELICIOUS, but the variations are endless and limited by only your imagination and tastebuds.
You will need:
1 large spaghetti squash (serves 2 – 3 hefty servings)
8-10 stalks of asparagus, ends trimmed & roughly chopped (could use frozen)
1 package of mushrooms (portobello or a mix of your faves), sliced
2 shallots, roughly chopped (or 1 small onion)
1/2 cup of sun dried tomatoes in olive oil, chopped
2 -3 cloves of garlic, minced
olive oil
kosher salt
freshly ground black pepper
1 tsp of red pepper flakes (more if you like a little more kick)
1/2 teaspoon of oregano (could use Italian seasoning)
1 small can of crushed tomatoes
Preheat the oven to 350 degrees
Cut the squash in half, lengthwise, scoop out the seeds and stringy stuff. Drizzle with olive oil (approximately one tablespoon) and 1/4 to 1/2 teaspoon of salt and pepper. Place the squash, cut side down, on a baking sheet and bake for 35-40 minutes or until a knife goes into the squash easily. Remove and set the squash aside until it is cool enough to handle. With a fork, scrape the flesh to create long strands. They will resemble angel hair pasta.
While the squash is baking, heat a saute pan over medium high heat. Add one tablespoon of olive oil, the asparagus, mushrooms, onion and sun dried tomatoes. Cook for 5 minutes. Add the garlic, oregano and cook for another minute before adding the crushed tomatoes. Simmer for five to ten minutes. Season with salt and pepper to taste and serve over the spaghetti squash. Top with grated parmesan if you'd like.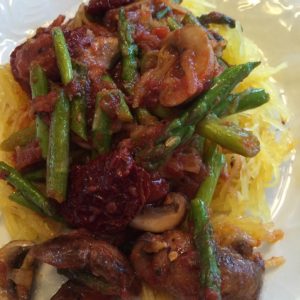 #yumola