As a child, I didn't know store bought pancake mixes existed. No, really, I'm serious. I LOVED when my Mom (known as Granna to my two angels) made pancakes. And, when she made them for lunch or dinner, man oh man was I excited. Nothing beats breakfast for dinner! I liked mine with maple syrup, but my Mom and sisters preferred Alaga syrup (and still do). Anyone remember that? Or, better yet, still buy it? The 'add in' options are endless with these light and fluffy gems. To the basic batter, you can add bananas, cinnamon, pecans, pumpkin or sweet potato puree, walnuts … whatever you'd like. And, you can top them with fruit, granola, powdered sugar, nuts, syrup or whipped cream. These pancakes are SO good and SO easy to make. Try them. I guarantee you that you will not buy store bought mixes again.
You will need:
2 cups of all purpose flour
3 tablespoons of granulated sugar
1 teaspoon of salt (I use kosher)
1/4 teaspoon of nutmeg
2 heaping tablespoons of baking powder
2 eggs
1/4 cup of butter, melted
1 3/4 cups of milk or buttermilk
1 teaspoon of vanilla extract
Sift the flour, sugar salt, nutmeg and baking powder into a large mixing bowl. Make a well in the center of the bowl and pour in the melted butter. Mix the eggs, milk and vanilla extract in a separate bowl with a whisk. Pour into the well and mix with a spoon or whisk just until combined. Let the batter sit for 10 minutes before cooking on a hot; buttered griddle.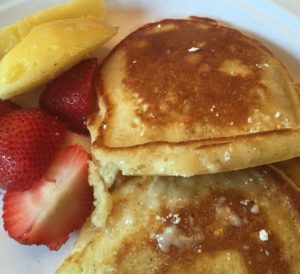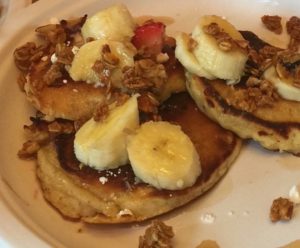 #yumola