Everyone who knows me knows I love Mexican food. The flavor profiles make my tastebuds sing. I'm also a fan of Chinese, Thai and most Asian inspired foods. However, I've only found a few restaurants that satisfy my tastebuds AND agree with my stomach. Anyone else? In other words, I'm PICKY! And, I like to control the quality of ingredients I consume. This beef with broccoli recipe satisfies all of the above! I hope you will give it a try.
You will need:
1 1/2 pounds of flank or round steak cut into thin strips
1/4 cup of cornstarch (can use arrowroot powder)
1/2 cup of soy sauce (I use coconut aminos)
2 T brown sugar
2-3 cloves of garlic, minced
1 T of fresh ginger, minced
peanut oil (can use coconut or vegetable oil)
1 lb of broccoli florets
1/4 cup of beef broth
1/4 cup of oyster sauce
In a bowl, mix together the soy sauce, corn starch, brown sugar, ginger and garlic. Pour half of the mixture over the meat in a separate bowl and toss to coat. Reserve the other half of the soy sauce mixture. Let the meat sit while you prep the veggies.
Heat about three tablespoons of oil, in a wok or large frying pan, and add the broccoli. Stir for one minute and then remove it onto a plate.
Allow the pan to get very hot again (medium high heat) and add a drizzle of oil. Using tongs, carefully add the meat to the pan. Let it cook, untouched, for one minute, then turn and cook for another minute. Remove onto a separate plate.
Pour the remaining sauce into the skillet with the beef broth and oyster sauce. Cook on high until it starts to thicken. Add the beef and broccoli and toss. Serve alone or over rice.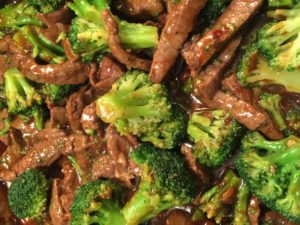 #yumola