My girlfriend, Jess, tagged me in a post for this recipe and I couldn't wait to give them a try. My husband and I host an annual Christmas party and I was anxious to add these to my menu. My guests are used to me making the same thing every year. In fact, they look forward to the food all year long. So, I wasn't sure how this new addition would go over. I have NO idea why I was concerned. They were a HUGE hit and GONE! All 48 of them; within minutes! Of course, I had to play around with the recipe and tweak it to my liking. I used my guacamole recipe and my taco seasoning recipe. I hope you'll give these a try. They are so easy and SO good! I'm making them again, tomorrow night, for Christmas Eve.
You will need:
6 large flour tortillas
2 T butter, melted
1 lb of jumbo shrimp (16-20 count), shelled and deveined (I prefer wild caught, Key West shrimp. And, this recipe calls for 24, so if you use the jumbo, you will need a little over 1 lb. You could use 21-25 count, but I wouldn't go smaller than that.)
1/2 of my guacamole recipe (or make it all and serve the leftovers with chips. You can find the guac recipe under the 'Appetizer' tab)
1-2 T of my taco seasoning recipe (you will find 'no more store bought spice packets' under the 'Tips' tab)
2 cloves of garlic minced
the juice of 1/2 of a lime
Preheat the oven to 375 degrees. Butter each side of the tortillas and cut them into even quarters, making 24 pieces. Place one piece into each cup of a muffin tin and push down to create a cup. Bake for 10-12 minutes or until crisp.
Prepare the guacamole in a bowl and set aside.
In another bowl, combine the shrimp, taco seasoning, garlic and lime juice. Cook, in a sauté pan, over medium heat for 8 minutes. Set aside.
Assemble the cups by placing a couple of spoonfuls of guacamole in the toasted cup. Place a shrimp on top and serve. If you'd like, you can also add a dollop of sour cream.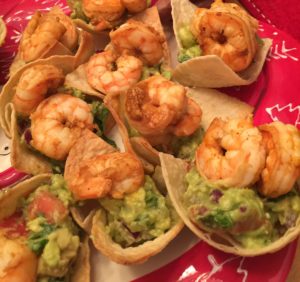 #yumola