I LOVE going to the Farmer's Market in the Summer. There are SO many options and varieties of vegetables, but I tend to buy more than we can use before they go bad. Since I haven't tried my hand at canning veggies, what am I to do with some of my abundant and delicious Summer produce? Make a scrumpdiliocious vegetable chili, of course! For this recipe, you will need:
2 T of your favorite oil (I use regular olive oil)
2 carrots, sliced
1 rib of celery, including the leafy tops, chopped
2 ears of corn cut off of the cob or 1 cup of frozen corn
3 cloves of garlic, minced
1 green bell pepper, chopped
1 jalapeno pepper, seeded and chopped
3 green onion, chopped
1 medium onion, chopped
1 poblano pepper, seeded and chopped
3 medium yukon gold potatoes, cubed
3 T chili powder
2 T ground cumin
1 t oregano
2 t paprika
salt and pepper to taste
1 – 15 oz can of black beans
1 -15 oz can of great northern beans
1 – 15 oz can of kidney beans
1 – 28 oz can of crushed tomatoes
water or vegetable stock as needed to thin out the chili if too thick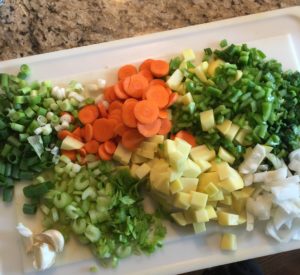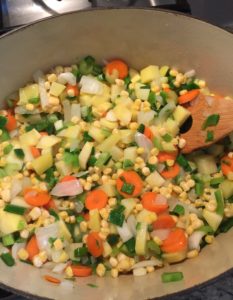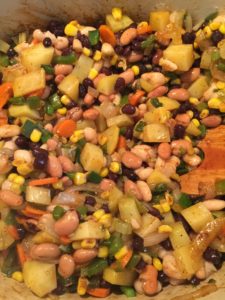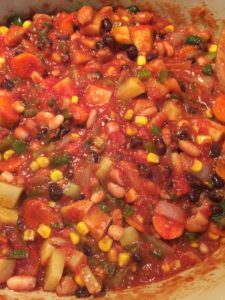 Heat oil, in a large dutch oven or stock pot, over medium high heat. Add all of the vegetables and saute approximately 10 minutes, stirring often, until the potatoes start to soften. You don't want to brown the veggies. Add all of the spices and stir. Drain and add the beans to the pot as well as the tomatoes. Stir, cover and lower the temperature to simmer for 20 to 30 minutes. Add the water or stock, if needed, stir and continue simmering for an additional 5 minutes. Season with extra salt and pepper, if needed and serve. Garnish with chopped, avocado, cilantro or even sour cream and grated cheese.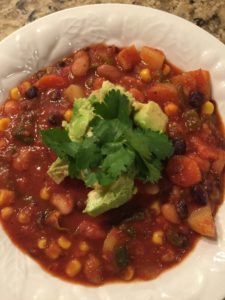 Enjoy!
#yumola