Meatloaf, to me, paired with mashed potatoes (gravy optional) and a vegetable  is a timeless classic. It's like a cozy blanket and a warm fire. Pure comfort! My family loves it with ground turkey, but feel free to use ground beef.
You will need:
 1 1/2 pounds of ground turkey thighs
1 slice of bread (or 1/2 cup of plain bread crumbs)
1/2 cup of milk
1 egg beaten
1/2 cup of onion, chopped finely or grated
3 cloves of garlic, minced
1/4 cup of Italian parsley, chopped finely
1 T Worcestershire sauce
3/4 t kosher salt
1/2 t freshly ground black pepper 
1/2 t ground sage
1 t poultry seasoning
2 T of your favorite ketchup plus 1/4 cup
Preheat your oven to 350 degrees. 
Mix all of the ingredients, except for the 1/4 cup of ketchup, in a large bowl. Put the bread into the milk and soak, then break apart with your fingers before adding it with the other ingredients. Once everything is combined, place the mixture into a loaf pan and shape into a loaf. Spread the remaining ketchup on top of the loaf and bake, uncovered, for 55 minutes. Let it cool for 10 minutes, slice and enjoy.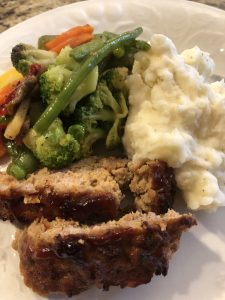 #yumola