---
So, I can honestly say I had never even heard of pumpkin pie until I was well into my teens. I grew up eating sweet potato pie and that's probably why I'm not a huge fan of pumpkin pie. I do like other things made with pumpkin. In fact, I posted a really good recipe for pumpkin cream cheese muffins. But, I digress. It's all about what you grew up eating and your family traditions.
My Mom's sweet potato pie recipe has been passed down for generations and is delicious! However, in true Kimmie Bee fashion, I had to play around with it a bit ☺️, and we really do love this recipe. Want a more traditional pie? Omit my 'Kimmie Bee' additions. You're a fan of pumpkin pie? Give this a try. I promise you won't be disappointed.
You will need:
1 pound of sweet potatoes (approximately 2 potatoes)
1 stick of butter, softened
1 3/4 cups sugar
1/4 cup brown sugar
3/4 cup of evaporated milk
2 eggs beaten
1/2 t ground nutmeg
1/2 t ground cinnamon
1/2 t salt
1 t vanilla extract
1/8 t ground ginger (Kimmie Bee addition)
1/8 t ground allspice (Kimmie Bee addition)
1 – 2 unbaked pie crust (see recipe under 'Tips' or use a store bought pie crust)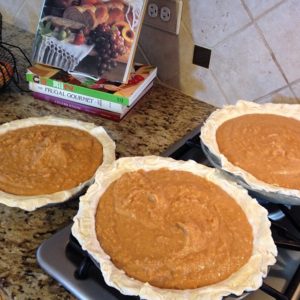 Preheat oven to 400 degrees and bake the sweet potatoes on a foil lined cookie sheet for approximately 40 minutes or until tender. Cool, remove the skin, place into a mixing bowl and mash with a potato masher. Add the butter and incorporate with the potato masher. Add the sugar, vanilla, spices and egg. Slowly add the evaporated milk and beat, on low speed, until smooth. Pour into your prepared pie crust. This recipe will make two regular pies or one deep dish pie. Bake on 350 degrees for approximately 50 minutes or until a knife inserted in the center comes out clean.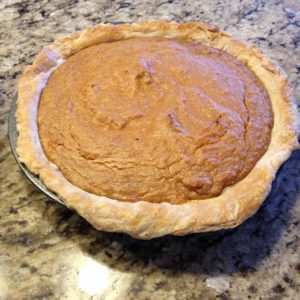 #yumola