Who doesn't like macaroni and cheese? Okay, maybe there are a few of you that don't. But, this recipe will even have YOU diving in! There are a ton of mac and cheese recipes out there. I even have a few variations that I make. However, this recipe is tried & true and has been in my family forever! If you're looking for low fat; low cal or any other 'low', keep scrolling. This AIN'T that. 😊 But, if you want a YUMOLA; creamy and extra cheesy plate of absolute comfort & deliciousness, keep reading.
Seen here served with roasted chicken, cornbread dressing and roasted asparagus. SOOOO good!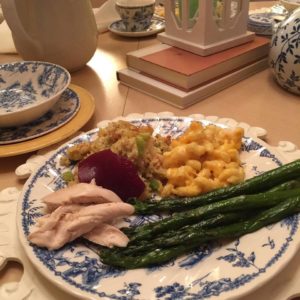 1 pound of macaroni
kosher salt
4 cups of milk or evaporated milk
1 stick of unsalted butter
1/2 cup all-purpose flour
6 cups of extra-sharp Cheddar, grated (1/4 cup reserved to sprinkle on top)
1 teaspoon of kosher salt
1 teaspoon freshly ground black pepper
1/2 teaspoon nutmeg
Preheat the oven to 375°F.
Bring a large pot of salted water to a boil and cook macaroni according to the package instructions for al dente. Drain well and set aside.
Heat the milk in a small saucepan, but do not allow it to boil. Melt the butter in a large pot (big enough to hold the milk and macaroni) and add the flour. Cook over low heat for 2 minutes, stirring with a whisk. Whisk in the hot milk and cook for a minute or two more, until thickened and smooth. Remove from the heat and add the cheddar cheese, 1 tsp salt; pepper, and nutmeg. Add the cooked macaroni and stir well. Pour into a baking dish. Sprinkle reserved cheese on top and bake for 30-35 minutes, or until the sauce is bubbly and the macaroni is browned on top.
#yumola