Kimmie Bee's Fried Chicken
1 whole fryer, cut in pieces (or your favorite pieces i.e. boneless; wings, etc.) that has been brined and patted dry.
1-4 T of your favorite spices (i.e. salt, pepper, garlic powder, paprika, cayenne, thyme)
1/4 cup of hot sauce
2 cups of all purpose flour
peanut oil (my fave) or your oil of choice
buttermilk (enough to cover chicken)
1-2 eggs
Note:  To save time and since you are marinating the chicken in buttermilk, you can skip the brining process in this recipe if you'd like. But if you don't use the buttermilk, brine so that your chicken isn't dry.
Place the chicken in a bowl and cover with the buttermilk and hot sauce. Cover and refrigerate for at least 4 hours. Remove chicken and discard marinade. Season chicken with 1-2 tablespoons of the spices. Put flour in a separate bowl or zip lock bag. Season flour with 1-2 tablespoons of the spices. In a separate bowl, whisk the eggs with 3 tablespoons of water. Dredge the chicken in the flour, then into the egg wash and back into the flour. Set on a plate or platter while you prep the pan.
Heat oil (enough to come half way up the pan) on medium high. My FAVORITE pan to use is my Mom's cast iron skillet. I use it for many things … cornbread; frying chicken & fish as well as roasting a whole chicken. Fry the chicken for approximately 8-12 minutes; turning once until golden brown. Bone in chicken will take longer than boneless; skinless.
I love serving this fried chicken with my homemade French toast. My twist on Chicken and Waffles. Initially, I was just improvising because I don't own a waffle iron.  Gasp! But, we actually prefer it over waffles. It is one of my son's favorite meals!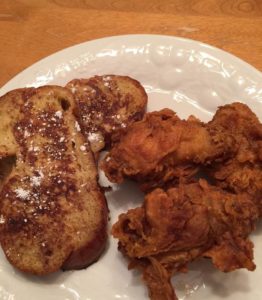 Kimmie Bee's French Toast
8 slices of Brioche or Challah bread sliced thick
1/2 t of vanilla extract
1/4 t of ground nutmeg
1 t of cinnamon
2 T sugar
4 eggs
1/4 c milk
butter (unsalted)
powdered sugar
maple syrup
Combine the spices in a small bowl. In a separate bowl, whisk the milk, eggs and vanilla. Add the spices to the egg mixture and then pour into a shallow dish. Dip the bread into the egg mixture and cook in a heated; buttered pan or griddle until brown on both sides. Remove and sprinkle with powdered sugar. Serve with maple syrup or your favorite toppings.
#yumola