I saw this recipe while thumbing through a BH&G magazine, years ago, in my doctor's office. Yepper, you guessed it, I tore the page right out of the magazine and tucked it into my purse to try later. It was a really old; worn edition, so I didn't feel badly about swiping the recipe. And besides, now I'm able to share it with all of you! 😊 I tweaked it a tad bit and it has become a huge hit with my family and friends. In fact, it's one of the recipes I like demonstrating in my cooking sessions because it's so quick and easy, yet VERY flavorful.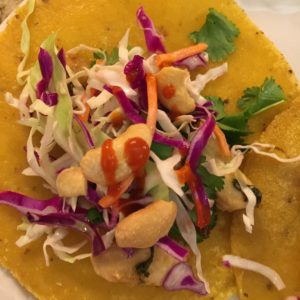 You will need:
1 1b boneless skinless chicken breasts cut in ½ inch pieces
1/4 cup of cilantro, chopped
4 cloves of garlic, minced
1 large shallot or 2 small, chopped
the juice of one large lime
1 T fish sauce (check the oriental aisle of the grocery store)
2 t coconut aminos (you can use soy sauce if you prefer)
1 t Sriracha
1 t crushed red pepper
2 T olive oil
16 corn tortillas (or 8 if you don't want to double the tacos)
Juice ½ of the lime into a large bowl and save the remaining ½ to squeeze onto the tacos before serving. Add the chicken, cilantro, garlic, shallot, fish sauce, red pepper, coconut aminos and Sriracha into the bowl with the lime juice. Toss to combine, cover and refrigerate for an hour. In a sauté pan, heat the oil and add the chicken mixture. Cook, stirring frequently, until the chicken is done.
To serve, heat the tortillas on a dry pan or directly on the burners of a gas stove. Top the tortillas with chicken and cabbage slaw, a squeeze of lime and an extra drizzle of Sriracha.
Cabbage slaw
2 cups of shredded Napa cabbage
½ cup of shredded carrot
½ cup of sliced green onions (tops only)
1/3 cup of sliced radishes
¼ cup of chopped cilantro
½ cup of chopped peanuts
¼ cup rice vinegar
Combine all of the ingredients in a bowl and toss. No other seasoning will be needed because the chicken is PACKED full of flavor and heat.
Note: Make the slaw while the chicken is marinating. Also, you can use 1 cup of Napa and 1 cup of purple cabbage. In the first picture, I used both.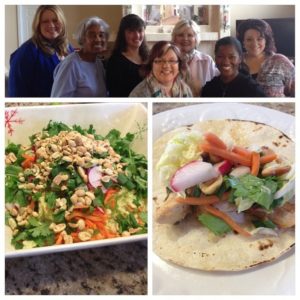 This smiling group of ladies attended one of my sessions and gave the recipe two thumbs up!
#yumola