I created this rice when I was doing a detox. It could be served as a side, but is a complete meal on its own. And, oh my word, this so does not taste like a 'detox' meal at all. It is FULL of flavor. I looked in my pantry and fridge and started creating. I even surprised myself on this one. 😊 And, with a few changes, this could be a delicious vegetarian meal! My nieces, Robin & Shelly will be happy about that.
You will need:
4 scallions, chopped (or 1 medium onion, chopped)
3 cloves of garlic, minced
1 red bell pepper chopped
1 pound of lean ground turkey (could use canned lentils or chick peas drained)
1 T of olive oil
1/2 can of tomato paste
4 1/2 cups of chicken stock (could use water or vegetable stock)
1 t ground coriander
1 t ground ginger
1/2 t of cayenne (use less if you'd like or omit)
1 1/2 t turmeric
2-3 t ground curry
1 t chili powder
1/2 t cinnamon
2 cups of brown jasmine rice (rinsed w/cold water and drained)
Sauté the onion, pepper and ground turkey in the olive oil over medium heat until the turkey is browned. Add the garlic and cook for 30 seconds, while stirring. Add the spices (and lentils or chick peas if you are substituting them for the ground turkey) and sauté until fragrant. Add the tomato paste and stir for 1 minute. Add the rice and another drizzle of olive oil to coat the grains. Add the liquid; bring to a boil and then reduce to simmer and cover for 50 minutes. Uncover and let sit for 10 minutes. Fluff and prepare to be blown away!!!!! For real!
Note: I used all organic and no sugar added products, but you don't have to. Also, you could use regular rice, but the brown jasmine rice is seriously DELISH! It has a bit of a nutty flavor.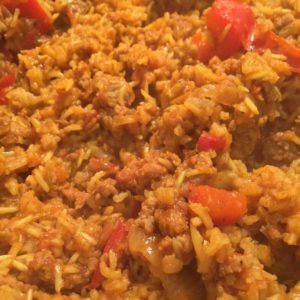 #yumola