So, do me a favor. Try this recipe and then share with me the RAVE reviews you receive. No, REALLY! And, NEVER BUY a pre-packaged fajita mix again. K? ☺️ Thanks. Honestly, it is SOOOO flavorful and you can use it with shrimp or steak as well.
You will need ….
4 T of olive oil
the juice from 1/2 of a lemon or a whole lime (I prefer lime)
1/2 t chili powder
1 1/2 t ground cumin
1 t garlic powder
1 1/2 t kosher salt
1 1/2 t dried oregano
1/2 t paprika
1 t crushed red pepper flakes
1 onion sliced
1 green bell pepper, julienned
1 yellow pepper, julienned
1 red pepper, julienned
1 1/2 – 2 lbs of boneless; skinless chicken breasts, cut in 1/2 (lengthwise) and then into strips about the size of your peppers
flour or corn tortillas
In a large bowl, combine 2 tablespoons of the olive oil, lemon or lime juice and all of the spices.  Mix to blend.  Add the chicken; cover and refrigerate up to four hours.  If you're using shrimp, marinate for 15 minutes and the full 4 hours for steak.
In a large skillet, saute the peppers and onion in the remaining olive oil until just tender.  Remove from the pan and set aside.  Take the chicken out of the bowl and throw away the marinade.  In the same skillet, cook the chicken over medium-high heat for 5-6 minutes or until no longer pink.  Return the onions and peppers to the pan, combine and continue cooking for 3-5 minutes.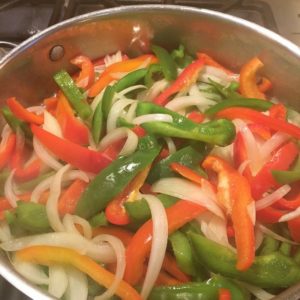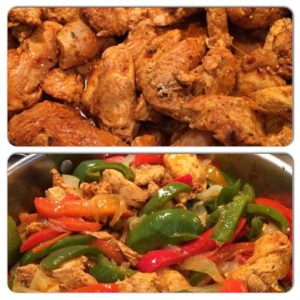 Serve with tortillas, sour cream, avocado/guacamole or your favorite toppings.  These fajitas are really good over Spanish rice and black beans; topped with salsa, guacamole and sour cream … like a burrito bowl.
---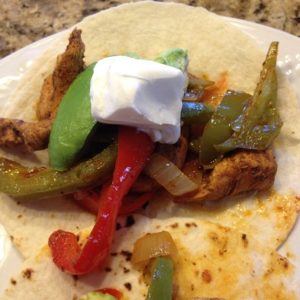 #yumola