Do you find yourself buying rotisserie chicken? I know it's so easy to just pick one up and throw a few sides with it and you've got dinner. And, even lunch for the next day. But, trust me when I tell you that if you try this method, you will NEVER buy another rotisserie chicken again. Okay, maybe that's a bit extreme, but I'm just saying, it's SO good! And, SO easy! And, guess what? If you don't want to brine the chicken overnight, it will still be YUMOLA! All you need is 30 minutes of brining in water and salt. I promise. Don't have 30 minutes to spare? This is one of the only times I would say you can even skip the brining altogether. Your chicken will still be absolutely delicious. But, only if you're pressed for time. 20-30 minutes of brining is better than not doing it. Okay, ready?
You will need:
1 whole chicken (3-4 pounder); remove the giblet bag
olive oil
softened butter (about 1/2 stick)
kosher salt
freshly ground black pepper
3 cloves of garlic (just smash the cloves and remove the peel)
1 lemon, sliced
fresh herbs (parsley, rosemary, sage, thyme …. a handful of one, two, all four; your favorite herbs or omit altogether)
Preheat the oven to 450 degrees
Rinse the chicken (whether you brined it or not) and pat completely dry; even on the inside. Make sure you lift the wings and legs to remove as much water as possible. This will ensure a crispy skin. Place the chicken on a board and drizzle olive oil all over it. Smear the softened butter all over, as well, and push a little butter under the skin of the breast. Generously sprinkle salt and pepper all over the chicken. GENEROUSLY. Place the lemon, garlic and herbs (if you're using) inside the cavity of the chicken.
If you have an iron skillet, pull that baby out and use it. Otherwise, any oven safe pan will work. Place the chicken into the pan, breast side up, and place in the oven. Immediately turn down the oven to 400 degrees and roast for 50 minutes. Do not disturb or open the oven. This is KEY! After 50 minutes, remove and check the temperature. It is done when the temperature registers 165 degrees in the thickest part of the thigh and the juices run clear. If more cooking time is needed, check every 10 minutes. Total cooking time will be between 50 minutes to 1 1/2 hours depending on the size of your chicken. Once done, remove to a board and let rest for 10 minutes before carving. Strain the pan juices and make a simple pan gravy by heating the juices on top of the stove and thickening with 1 tablespoon of flour as you stir continuously until thickened. Add  salt and pepper if needed.
I would love to hear how amazing your chicken turned out. I have NO DOUBT that even you will be surprised at how easy and delicious it is.
Note: You will find instructions on brining in 'Say, "Goodbye" to dry; tasteless chicken' listed under 'Tips'.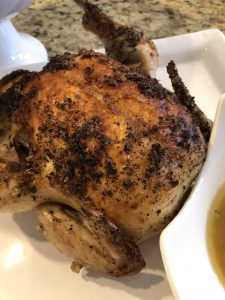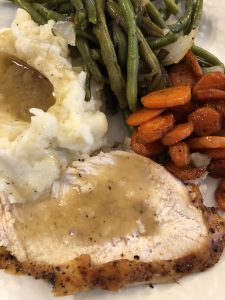 #yumola