This banana bread is rich, dense and DELICIOUS! It is not fluffy and cake like. In fact, it may even sink a little in the middle while baking. But, it is the bomb dot com. Seriously! And it's even better the next day. Just wrap the bread in foil and refrigerate. This recipe is a huge hit with my girlfriends, especially Sarah. ☺️ I often make it when I know they are coming over for coffee. My family loves it, as well, but my resident picky eater (aka my son) likes it with no nuts. So, if you are not a fan of nuts, feel free to omit them. It will still be YUMOLA! Want to make it 'OUT OF THIS WORLD' good? Spread a little cream cheese on your slice. Mmmmmhhhhmmmm!
1 cup of butter, softened
2 cups of sugar (most times I use 1 cup of regular and 1 cup of brown)
4 eggs
2 cups of mashed, over ripe bananas
2 t vanilla extract
2 cups of all purpose flour
1 t salt
2 t baking soda
1 t baking powder
1 cup of chopped pecans (or walnuts)
Preheat the oven to 350 degrees. Butter and flour two loaf pans.
Cream the butter and sugar together with a mixer and add the eggs in one at a time. Mix in the bananas and the vanilla extract. In a separate bowl, sift together the flour, salt, baking soda and baking powder. Add the dry ingredients into the banana mixture in three batches. Do not over mix. Fold in the nuts and evenly divide the batter between the two loaf pans.
Bake for 55 minutes, checking after 45 minutes. A toothpick inserted in the middle of the loaf should come out clean. Let the loaves cool for five minutes in the pan. Then turn them out onto a cooling rack and cool them completely before slicing.
Note: If you'd like a less dense and lighter bread, use all regular sugar; add another teaspoon of baking powder and 1/2 cup more of flour.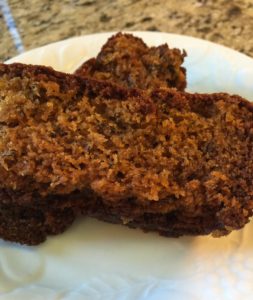 #yumola