Onion sautéed in olive oil makes EVERYTHING better. This recipe is no different. It's SO simple and really tasty. The onion caramelizes, a bit, bringing out this delicious sweetness in the squash. Mmmm Mmmm. You can serve it alongside almost anything! Today, I served it with my Easy Chicken and Bowtie Pasta (see recipe under 'Main Dishes').
You will need:
1 large yellow squash, sliced about 1/4″ thick
1 large zucchini squash, sliced about 1/4″ thick
1 onion, sliced
3 T of olive oil
1 t kosher salt
1 t freshly ground black pepper
Heat a saute pan over medium high heat. Add the olive oil and let heat for 30 seconds. Add the onion and zucchini, salt and pepper and let it cook for 3 minutes without touching. Lower the heat to low, cover and cook until tender, stirring occasionally. Add additional salt and pepper if needed.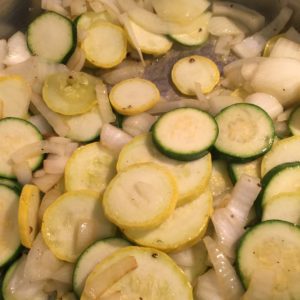 #yumola