This salad is a FAVE at my house!  Even my picky and, often times, NON veggie eating son likes it.  It doesn't require a lot of cooking and is PACKED full of flavor! It is a 'build your own Greek salad', so you can put in as much or, in my son's case, as little of any ingredient you like.  And, there are no exact amounts in this salad (2 cups of this or that).  Just put each ingredient in a separate bowl and allow each person to make their own salad.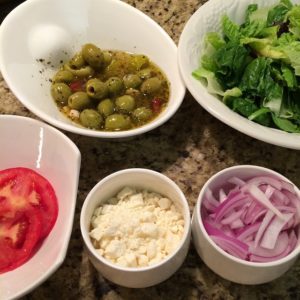 romaine lettuce or mixed baby greens
red onion, sliced
tomato, sliced
feta cheese, crumbled
mixed kalamata olives
4-6 boneless; skinless chicken breasts
3 cloves of fresh garlic, minced
2 teaspoons of dried oregano
kosher salt & freshly ground black pepper to taste
1 lemon
olive oil
Season the chicken with the garlic, oregano, salt & pepper (approx 1 teaspoon each); drizzle with olive oil and cook on a grill pan or outdoor grill approximately 4 minutes per side.  Remove and immediately squeeze the juice from 1/2 of the lemon onto the chicken and allow to rest for 5 minutes.  Slice diagonally.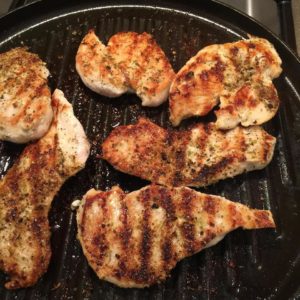 Assemble individual salads and top with the grilled chicken.  Drizzle with olive oil and a squeeze of lemon.  NO other dressing is needed.  Your mouth is going to be HAPPY!!!!!!! And, your tummy will be too.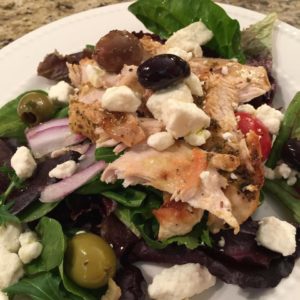 #yumola