The inspiration for this recipe came from my girlfriend and fellow basketball Mom, Mary Beth. We were chatting it up at our second home, also known as the gym, while we waited for our guys to finish basketball practice. Most days we head straight to the gym, once our guys get home from school, and dinner needs to be planned ahead of time. On this particular day I missed that boat and was trying to figure out what to do for dinner after practice. MB mentioned she had made chicken tortilla soup in the crock pot. My interest was immediately piqued because I LOVE Mexican food. She laughed when I asked her for the recipe because she said it was as simple as opening up cans and dumping everything into the crock pot. She's always telling me that my recipes are too complex and that she is NOT a cook. However, after making this soup, I beg to differ with her and you will too! She IS a cook! I only 'Kimmie-fied' her original recipe a little bit. I hope you will give this one a try. It is SO easy to make and is FULL of flavor! It's even better the second day!
You will need:
3 boneless, skinless chicken breasts
3 T of my taco seasoning mix (find the recipe, 'No more store bought spice packets' under the Tips tab)
1 jar of your favorite salsa (15 1/2 – 24 oz)
32 oz box of chicken stock (add up to 2 boxes if you like it more liquidy)
1 1/2 cups of frozen corn
15 oz can of black beans
15oz can of crushed tomatoes
3T of tomato paste
2 cups of cooked white rice (you can omit, but I had cooked rice in the fridge I didn't want to throw out and it was a great addition)
the juice of a lime
grated cheese
cubed avocado
sour cream
your favorite tortilla strips/chips or fry up your own using corn tortillas and vegetable oil
fresh cilantro, chopped
Place the chicken breasts in a large crock pot and sprinkle with the taco seasoning. Add the salsa, chicken stock, corn, beans, tomato paste and crushed tomatoes. Place the lid on the pot and cook on high for 4-5 hours or on low for 8 hours. Add the rice to the pot when there are 30 minutes left of cooking time.
Shred the chicken with two forks. Add the lime juice and additional salt if needed. Stir and serve alone or top with cheese, avocado, sour cream, tortilla strips and cilantro.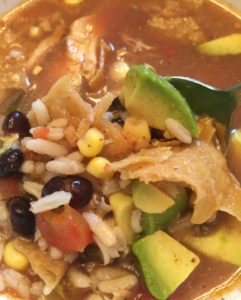 #yumola