I promised to post this recipe days ago and haven't because … LIFE. But, I'm sitting on my sofa; thinking about my big sister (Sheila) who had the nerve to go on a three month vacation. Who does that? I mean, I miss her! But, I digress. Those thoughts reminded me that I hadn't posted her scrumpdiliocious potato recipe. Growing up, my Mom always made fried potatoes with onions (she still does and my kids LOVE it), but my sister took it to a whole other level of deliciousness! Trust me! Your taste buds will be doing the happy dance.
You will need:
3 lb bag of potatoes, sliced about 1/2 inch thick (scub, pat dry and leave the skins on … I like baby yukon golds, but you could use any variety)
1 large onion, sliced
2-3 cloves of garlic, minced
3 T olive oil (or your favorite oil)
1 bag of frozen green beans (I love Trader Joe's haricot vert, but you could use fresh)
kosher salt & freshly ground black pepper to taste
Heat a heavy sauté pan on medium high heat. Add the oil. Season the potatoes with the salt and pepper and add them to the hot pan. Do not turn for 2-3 minutes. Add the onion and turn the potatoes. Continue cooking for another 5 minutes. Add the garlic and green beans and lower the heat to medium. Continue cooking, turning occasionally, until the potatoes are tender. Season with additional salt and pepper if needed.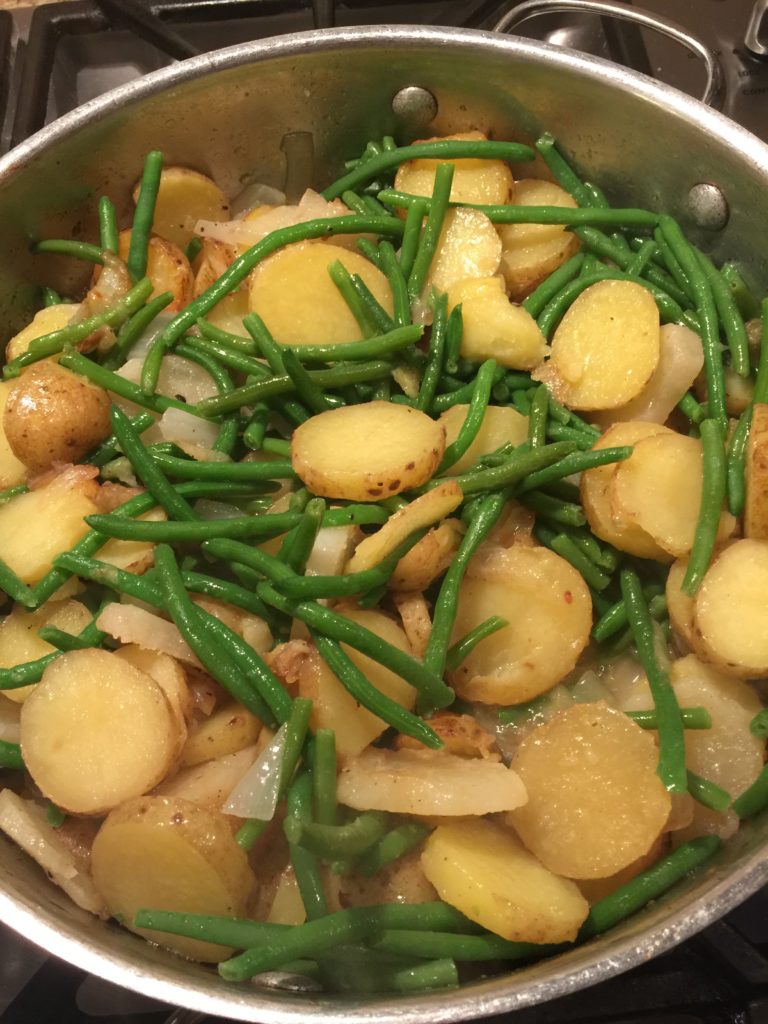 Enjoy!
#yumola