This soup is, hands down, my husband's favorite. It's hearty and DELICIOUS! And, it is SO easy to make. No, really, it is. You do need to chop a few ingredients, but it can be on your table … start to finish … in less than an hour. I promise! I always double this recipe because it's even better the next day. Serve it alone or with cornbread, corn cakes or crusty bread.
You will need:
2 boneless, skinless chicken breasts (cut in 1/2 lengthwise and cubed)
1 cup of carrots sliced or cubed
1 cup of celery chopped
1 large onion chopped
1/2 cup of flour (you can omit and it will still be just as yummy)
1 tsp of freshly ground black pepper
1 tsp kosher salt
1 tsp of dried thyme
olive oil
6 cups of chicken stock
3 cups of half and half
1 box of long grain and wild rice (I like Whole Food's 365 brand)
Heat a heavy Dutch Oven or large stock pot on medium high heat and add about one tablespoon of olive oil. Season the chicken with salt and pepper and saute in the oil until no longer pink. Add all of the veggies and the thyme. Saute for three to five minutes.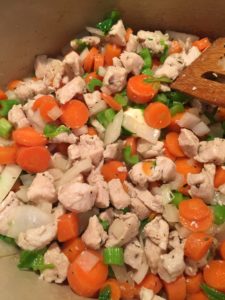 Add a little more oil if the pan is dry and whisk in the flour. Cook for one to two minutes to cook the flour. Add in the rice, seasoning packet and broth. Stir and bring to a boil. Reduce the heat to a simmer, cover and cook for twenty minutes. Whisk in the cream, taste and add additional salt and pepper if needed. Heat for another five minutes and ENJOY!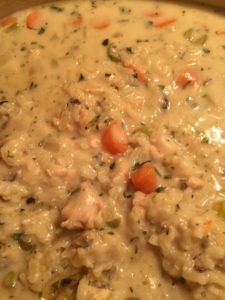 #yumola