Occasionally, I like to make these corn cakes instead of baking cornbread. They take a fraction of the time to cook. And, let's face it, sometimes you just need to get dinner on the table. QUICKLY. You won't sacrifice one bit of taste. In fact, my Mom and son prefer these little cakes. You can add in cheese, chilis, corn or whatever your heart desires. They are crispy on the outside and light and fluffy on the inside.
You will need:
3/4 cup of ground cornmeal (I prefer yellow)
1 1/4 cup of all purpose flour
2 teaspoons of baking powder
1/2 teaspoon of salt
3/4 cup of milk
4 tablespoons of honey (can use 1/4 cup of sugar instead)
1/4 cup of butter, melted
1 large egg, beaten
butter for the griddle
In a large bowl, combine the flour, cornmeal, baking powder and salt. Mix well. Add the milk, honey, melted butter and the egg. Mix until just blended.
Heat a griddle or pan over medium high heat and add a pat of butter. Pour 1/4 cup of the batter onto the griddle for each cake. Cook two minutes per side or until golden brown and cooked through.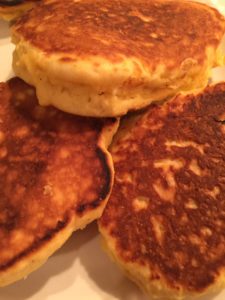 #yumola