As the temperatures turn cooler, we all tend to want some of our favorite comfort foods. Honestly, it doesn't have to be cool outside for this family favorite to make an appearance on my menu. This chicken pot pie recipe is simple; filled with ingredients that are probably already in your pantry/refrigerator and a huge crowd pleaser.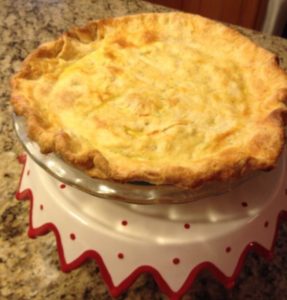 You will need:
1 pound of boneless, skinless chicken breast cut in 1/2 lengthwise and then cut into strips
½ teaspoon of sweet paprika
1 teaspoon of dried thyme
1 t kosher salt
1 t freshly ground pepper
3 tablespoons olive oil
½ onion chopped
½ cup celery chopped
1 cup of sliced carrots
1 cup of frozen peas
2 cloves of garlic, minced
2-3 tablespoons of flour
2 cups of chicken stock
1 cup of heavy cream (or evaporated milk)
2 pie crusts (see 'Pie Crust 101' under the 'Tips' tab)
1 egg lightly beaten
Preheat oven to 425 degrees
Sprinkle the paprika, thyme, 1/2 t of salt & pepper on the chicken. Heat a sauté pan over medium high heat and add the olive oil. Add the chicken and sauté approximately 4 minutes per side. Remove the chicken and place on a plate to cool for a few minutes and then chop into cubes.
In the same pan, add the onions, carrots and celery. Sprinkle with remaining salt and pepper and cook for 3-5 minutes. Add the garlic and cook another minute while stirring. Sprinkle the flour onto the mixture and stir until the flour is incorporated. Add the chicken stock and simmer, stirring until it starts to thicken. Then, stir in the heavy cream & season with additional salt and pepper if needed. Add the frozen peas and the chicken back to the pan and turn off the heat. Stir to combine and set aside.
Roll pie crust and put one in the bottom of a deep dish pie plate. Add the chicken mixture and top with the other pie crust. Crimp to seal the edges. Add about a teaspoon of water to the beaten egg and brush evenly over the top of the pie crust. Make slits in the top of the pie for venting and place in the oven. Bake for 2o minutes or until golden brown.
Note: If you have leftover chicken filling and pie crust scraps, you can make chicken pot pie bundles like the ones shown in the picture. Just roll out the scraps and cut out a large circle. Put in a large muffin tin, fill with the chicken mixture and pinch together to resemble a pouch.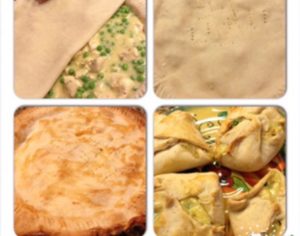 #yumola