My sister, Sheila, is 12 years older than me and I spent a huge part of almost every Summer vacation with her and her family. Some of my fondest childhood memories are from those Summers. We took trips to the zoo (my sister LOVED the gorillas at Lincoln Park Zoo), to the air and water show (my brother-in-law, Bob, had a way of getting us THE PRIME viewing spots), to the museums (they took me to see The King Tut exhibit) and I always looked forward to the annual Great America trip (armed with Sheila's amazing packed lunch of fried chicken and potato salad). We also enjoyed many days poolside. On some of those 'lazy days of Summer', we would rise to the smell of her pineapple nut bread baking. Funny how smells can conjure up a memory. To this day, the smell of this bread baking takes me back to the Summer of 1977; my red bathing suit (why I only had one suit is beyond me) and my brother-in-law playing (and singing) 'The House of the Rising Sun' on his guitar. The taste is pretty memorable, too!
What you will need for Sheila's Pineapple Nut Bread:
4 cups of flour
2 t of baking soda
3/4 t salt
1 1/2 cups of brown sugar
1 stick of butter (softened)
1/4 cup of vegetable shortening
2 eggs, beaten
1 – 6oz can of frozen orange juice, thawed
1 – 15 oz can of crushed pineapple
1 cup of chopped pecans (or walnuts)
Preheat the oven to 350 degrees.
Sift the flour, baking soda and salt into a large bowl. Cut the shortening into the flour mixture with a pastry cutter or two butter knives. In another bowl, cream the butter & sugar. Add the eggs and combine. Pour into the flour mixture and add all of the other ingredients. Mix together until combined with a spoon or spatula. Do not beat or use a mixer. Butter and flour two loaf pans and evenly divide the batter between the two pans. Bake for 45 minutes or until a toothpick inserted in the middle comes out clean.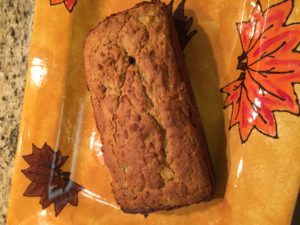 #yumola